Gaborone ,
Botswana
Transportation to Gaborone
Description
Gaborone is situated between Kgale and Oodi Hills, on the Notwane River in the south-eastern corner of Botswana, and 15 kilometres (9.3 mi) from the South African border. The city is served by the Sir Seretse Khama International Airport. It is an administrative district in its own right, but is the capital of the surrounding South-East District. Locals often refer to the city as Gabs.
Powered by WikiVoyage
Where to Stay in Gaborone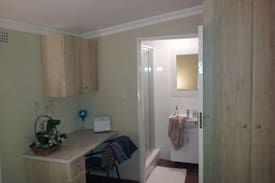 Gaborone Travel Tips & Reviews
May 28, 2016
Gaborone is a bit of a slow city but filled with the nicest Africans that I have ever met. Depending on whether or not you are in the area, it's interesting to see.
Read about Gaborone on my blog →
Popular Trips through Gaborone
Gaborone Weather: Average Temperature
| °F | Jan | Feb | Mar | Apr | May | Jun | Jul | Aug | Sep | Oct | Nov | Dec |
| --- | --- | --- | --- | --- | --- | --- | --- | --- | --- | --- | --- | --- |
| High | 90 | 86 | 81 | 78 | 73 | 72 | 78 | 85 | 89 | 90 | 87 | 89 |
| Low | 67 | 64 | 56 | 46 | 39 | 39 | 45 | 54 | 61 | 66 | 68 | 68 |
| °C | Jan | Feb | Mar | Apr | May | Jun | Jul | Aug | Sep | Oct | Nov | Dec |
| --- | --- | --- | --- | --- | --- | --- | --- | --- | --- | --- | --- | --- |
| High | 33 | 30 | 27 | 26 | 23 | 22 | 26 | 30 | 32 | 32 | 31 | 32 |
| Low | 20 | 18 | 13 | 8 | 4 | 4 | 7 | 12 | 16 | 19 | 20 | 20 |
Write a Review of Gaborone